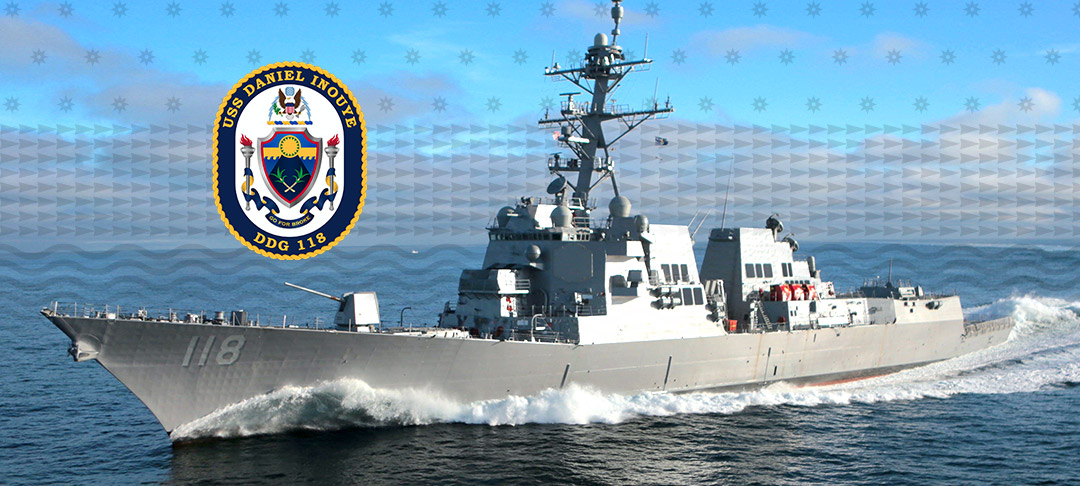 On the day before the christening, family, friends, former staff and military leaders came together to participate in the traditional Mast Stepping Ceremony.
The mast stepping ceremony has been a tradition in shipbuilding for centuries. In the past, the placement of the mast into the hull, known as "stepping the mast", signified the moment when a "shell" truly became a ship. Today, the mast stepping ceremony involves placing or welding coins and other significant objects into the mast step of a ship, and is seen as a traditional moment in a ship' construction which is thought to bring good luck. It is essentially a "Time Capsule" onboard the ship. The practice of placing coins at the step, or base, of the mast during ship construction originated with the ancient Greeks and Romans. The legend states that these coins could be used by the crew, if lost at sea, as payment for safe passage into the afterlife. This old tradition has survived the test of time. Today, coins and other items are placed in the mast of Navy ships to honor the heritage of the ship, her sponsor, and her namesake. The contents of the Mast Stepping Box are sealed until the ship is decommissioned.
Special items linked to Senator Inouye were placed in a box which was welding into the mast of the ship. Charlie Houy shared wonderful stories as he placed the Senator's Good Conduct medal into the box. Read Charlie's full speech at the link below.
Ken Inouye did a heartfelt job placing his grandmother's brooch and family bible.  Representatives from the Navy, the Senator's family, former staff, and friends placed the items in the box during a moving ceremony.  We have 2 videos below from this event – the first one is the items that were placed in the box; and the 2nd one shows a some of Senator's personal history.