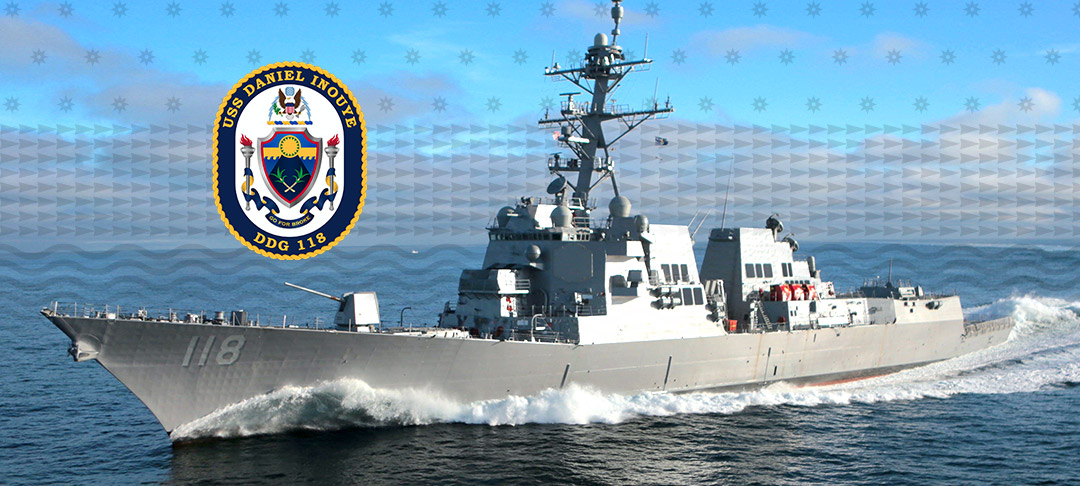 On June 21-22, 2019 the DKI ohana gathered in Bath, Maine for the christening of the Navy Destroyer Daniel Inouye (DDG 118), which will arrive in its homeport of Pearl Harbor in early 2021 under the leadership of Commanding Officer CDR DonAnn Gilmore, Master Chief Thomas Mace, and more than 300 sailors. We are honored that the USS Daniel Inouye's first commander will be a woman.
Just getting to Maine was a monumental task! We deiced that a plastic lei on the Daniel Inouye DDG 188 just would not do, so we went to work. Thanks to support from Brion Chang and his team, 8 segments — feet each, a massive ti-leaf lei (tied to a 1-inch diameter rope), which when assembled stretched 75 feet – a double strand lei. Watch the video below to see the lei being assembled at the shipyard upon our arrival.  The shipyard staff was eager to learn how to build the lei, and really enjoyed seeing the beautiful flowers. In addition, we brought 4 dozen lei for dignitaries, together with Big Island Candies, Kauai's special salt and a host of omiyage for special guests.
A sincere mahalo to all the hearts and hands that came together to make this event possible! The General Dynamics and Navy crews truly went above and beyond to prepare and execute every detail for the weekend. Hawaiian Airlines aided in shipping hundreds of pounds of lei and omiyage to the East Coast, Big Island Candies and our friends on Kauai made sure the aloha spirit was alive and well throughout the festivities. It truly took a village to christen a U.S.S. Destroyer – Hawaiian style.